What is USB Type-C™ ?
USB Type-C™ is the new USB plug and port connection developed by the USB Implementers' Forum (USB-IF) which is the governing body for USB technology. It seeks to replace the USB Type-A and USB Type-B found on most computing devices with a versatile, smaller, and reversible connection.

The underlying technology of this new connection is designed to support faster data transfer rates (up to 20Gbps), more charging power (up to 100W), and video / audio capability through alternate mode. USB Type-C can support alternate display protocols such as DisplayPort™, Thunderbolt™ 3, and MHL™.

Devices that will support USB Type-C range from notebooks and smartphones to external Hard Drives and audio equipment. The shift in technology is in part motivated by the preference for devices to be more compact yet more capable then they have previously been, a capability not easily achieved with a technology that is over 16 years old.

What is Power Delivery?
The addition of the power delivery capability to USB Type-C effectively reduces the clutter of having to carry multiple cables and adapters for power, A/V, and data transfer. This additional specification allows for a theoretical 100W max charging power, which is sufficient to charge devices larger than tablets such as laptops. Power Delivery is in its infancy but will become more widely adopted as device manufactures and connectivity providers develop the technology. Not all USB-C cables or devices are capable of supporting USB PD. Always consult the specifications for your devices to confirm support for the PD (as well as the maxium charging power).
Table 2-1 USB Type-C Specification Release 1.3
| | | |
| --- | --- | --- |
| Mode of Operation | Nominal Voltage | Maximum Current |
| USB 2.0 | 5V | 500 mA |
| USB 3.1 | 5V | 900 mA |
| USB BC 1.2 | 5V | Up to 1.5A |
| USB Type-C | 5V | 1.5A or 3A |
| USB PD | Configurable up to 20V | Configurable Up to 5A |
What is Alternate Modes?
For the first time, the USB-IF has allowed alternate protocols on their connectors to extend the capabilities of this connection. The addition of non-USB formats like DisplayPort, Thunderbolt 3, and MHL will allow devices to connect to displays and transfer data at higher speeds through a single USB-C cable. For example, Thunderbolt 3 can allow for bandwidth up to 40Gbps and support dual 4k displays @ 60Hz. This allows for ultra-fast data transfer to and from a Hard Drive or support for the latest TVs and monitors all in a compact adapter.

Not all USB Type-C cables or devices are capable of supporting these technologies. Always consult the specifications for your devices to confirm support for alternate modes. As an example, some laptops support Type-C but do not support Thunderbolt 3 or alternate modes. Computers and smartphones with USB-C 2.0 will not support alternate modes and thus, are not capable of transmitting video.

USB development history& Transfer Rates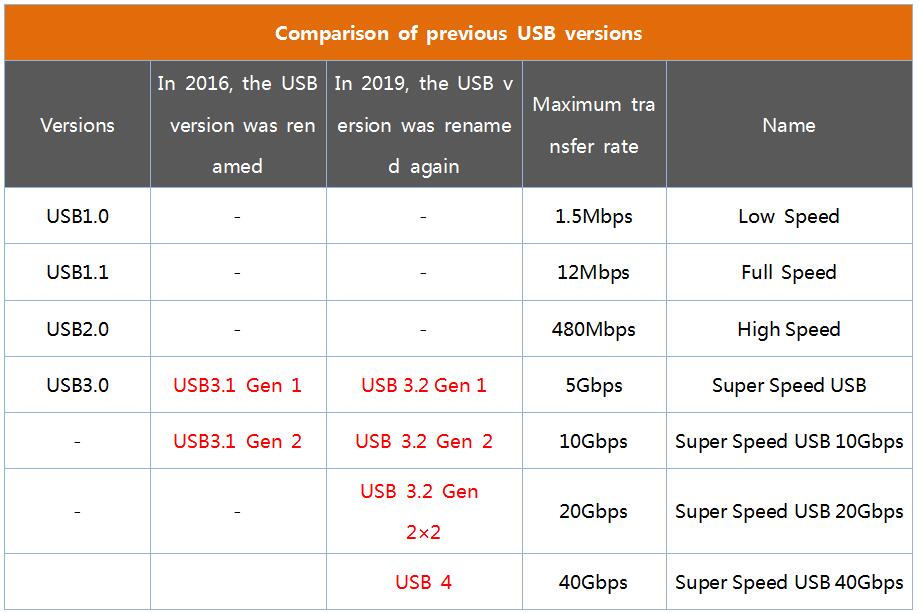 Types of USB Connectors
USB connector types multiplied as the specification progressed. The original USB specification detailed Type-A and Type-B plugs and receptacles. The USB Type-C Specification defines a new small reversible-plug connector for USB devices. The Type-C plug connects to both hosts and devices, replacing various Type-A and Type-B connectors and cables.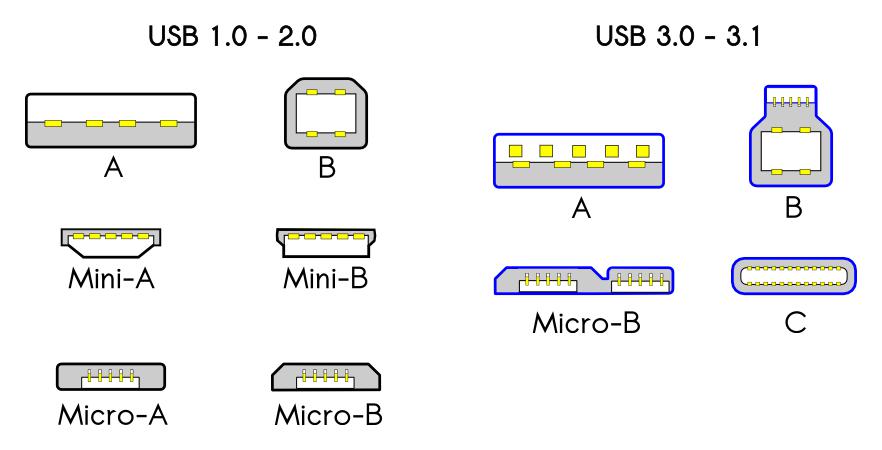 List of Devices Supporting Video & Power over USB-C
Not all USB-C ports support all features of USB-C. Some computers and smartphones support data only for flash drives while some others support video out and power as well.
Here is the list by manufacturer of computers and smartphones that support full feature USB-C:
Dell
Dell XPS 12 9250, 13 9350 / 9360 / 9365 / 9370, 15 9550 / 9560 / 9570 / 9575, Latitude 5290 / 5480 / 5580 / 7275 / 7280 / 7285 / 7290 / 7370 / 7380 / 7390 / 7480 / 7490 / 7520 / 7720 / E5570, Precision (certain configurations) 3520 / 15 3510 / 5510 / 5520 / M7510, 17 M7710, Alienware 13 / 15 / 17
Apple
2016 / 2017 / 2018 MacBook, MacBook Pro, iMac, iMac Pro
Acer
Aspire Switch 12 S / R13, V15 / V17 Nitro, TravelMate P648, Predator 15 / 17 / 17X, Chromebook R 13
ASUS
ROG GL / G5 / G7 / GX / Strix, ZenBook Pro UX501VW, ZenBook 3 Deluxe / Pro, Transformer 3 Pro, Schenker XMG, Q524UQ 2-in-1 15.6, Chromebook Flip C302
Gigabyte
Aorus X5 15, X7 DT 17, BRIX / BRIX S
EVGA
SC15 / SC17 Geforce GTX 1060
Google
Pixelbook / Pixelbook 2
HP
Elite X2 1012 G1 / G2, Z1 Workstation G3, Spectre 13.3 / x360, EliteBook 1040 G4 / X360 G2 / X 360 1020 G2 / Folio G1, ZBook 17 G3 / 17 G4 / 15 G3 / 15 G4 / Studio G3 / Studio G4 / Z2 G4 / Z4 G4 / Z6 G4 / Z8 G4, Chromebook 13 G1
Lenovo
Legion Y720, IdeaPad Y900, Miix 720, Thinkpad P 50/70, T 470 / 470S / 570, X270, X1 Carbon, X1 Yoga, Yoga 370 / 900 / 910, P50 / P51 / P51S / P70 / P71
MSI
Phantom / Phantom Pro, Ghost / Ghost Pro, Stealth / Stealth Pro, Titan / Titan Pro, Dominator / Dominator Pro, Vortex G65
Razer
Blade / Stealth / Pro
Samsung
NP900X5N, Notebook Odyssey, Notebook 9 15 Inch, Galaxy Note 9 / Note 8 / S9 / S9+ / S8 / S8+
HTC
HTC 10 / U11 / U12
LG
Gram 15Z970, LG G5 / V20 / V30
Intel
NUC6i7KYK / NUC7i5BNH / NUC7i5BNK / NUC7i7BNH / NUC6i7KY
Toshiba
Portege X20W / X20E / X30 / X30-E, Tecra X40 / X40E
Sony
VAIO S11
Clevo
P 750DM / 770DM / 870DM
FUJITSU
Workstation CELSIUS H760
Microsoft
Surface Book 2, Surface Go, Lumia 950 / 950 XL
Zotac
ZBOX / MI549 / MI552 / MI572 / MI553
Huawei
MateBook X Pro

Host USB-C Port Capability: Power, Data, and Video
Some computers such as the Lenovo Yoga 910 have more than one USB-C port and they have different functions. The picture below shows that one USB-C port (left) is a charging only port while the other USB-C port (right) supports video and data. Please make sure to plug in your USB-C adapter or docking station to the right USB-C port.

Some USB-C ports have the Thunderbolt technology built in to achieve all features offered by USB-C as well as higher data transfer rate and additional features offered by the Thunderbolt technology. Thunderbolt 3 ports support data, video and charging and usually have the Thunderbolt logo printed next to them. Below picture shows a Thunderbolt enabled USB-C port.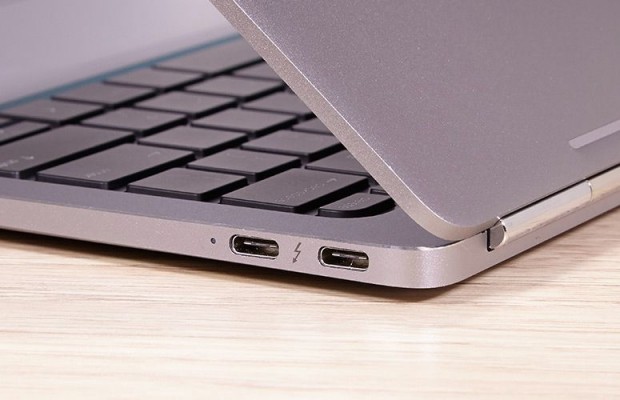 Below picture shows two USB-C ports on a Windows laptop. One USB-C port (left) supports Thunderbolt 3 and therefore offers the video, data, and charging capability. The other USB-C port (right) only supports data and charging without video capability. Please make sure to connect your USB-C / Thunderbolt 3 adapters and docks to the Thunderbolt 3 port on your laptop.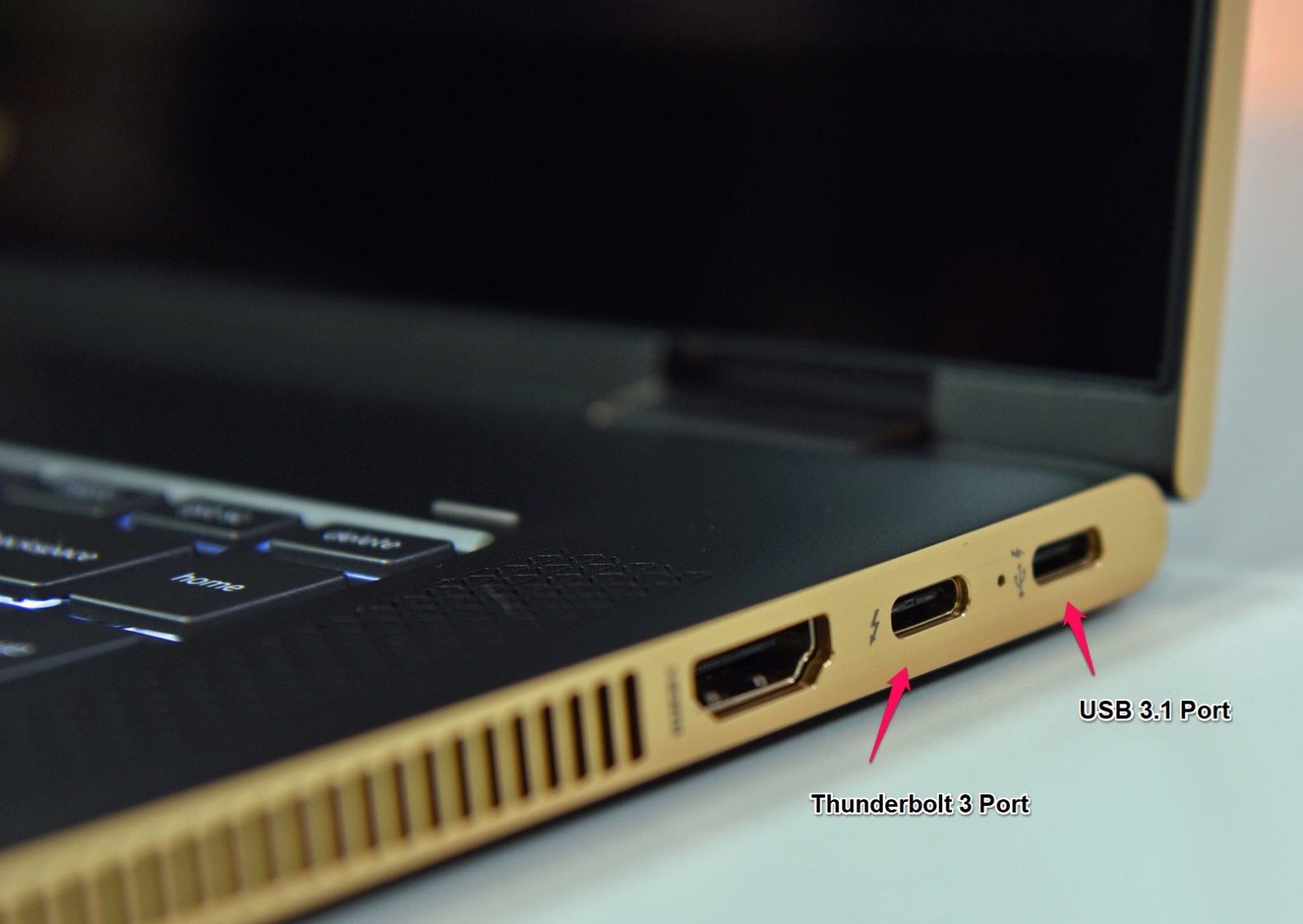 USB-C adapters and docks will work fine when plugged into a Thunderbolt 3 port on a laptop. However Thunderbolt 3 adapter and docks will not work when plugged into a USB-C port without the Thunderbolt capability. Refer to the article below for the list by manufacturer of computers that support Thunderbolt 3. Please contact the laptop manufacturer directly if you are not sure what kind of USB-C port your laptop has.
What's new in HDMI 2.0
2.0 Version increases bandwidth to 18Gbps significantly. Also includes the following advanced features:
•Up to 1536kHz audio sample frequency for the highest audio fidelity
•Up to 32 audio channels for multi-dimensional immersive audio experience
•Resolutions: Up to 4K@50/60 (2160p), 4 times the clarity of 1080p/60 video resolution, for the ultimate video experience
•Dynamic synchronization of video and audio streams
•Support for the wide angle theatrical 21:9 video aspect ratio
•Simultaneous delivery of multi-stream audio to multiple users (Up to 4)
•Simultaneous delivery of dual video streams to multiple users on the same screen
•CEC extension provide more expanded command to control consumer electronics devices through a single control point