Types of USB Connectors
USB connector types multiplied as the specification progressed. The original USB specification detailed Type-A and Type-B plugs and receptacles. The USB Type-C Specification defines a new small reversible-plug connector for USB devices. The Type-C plug connects to both hosts and devices, replacing various Type-A and Type-B connectors and cables.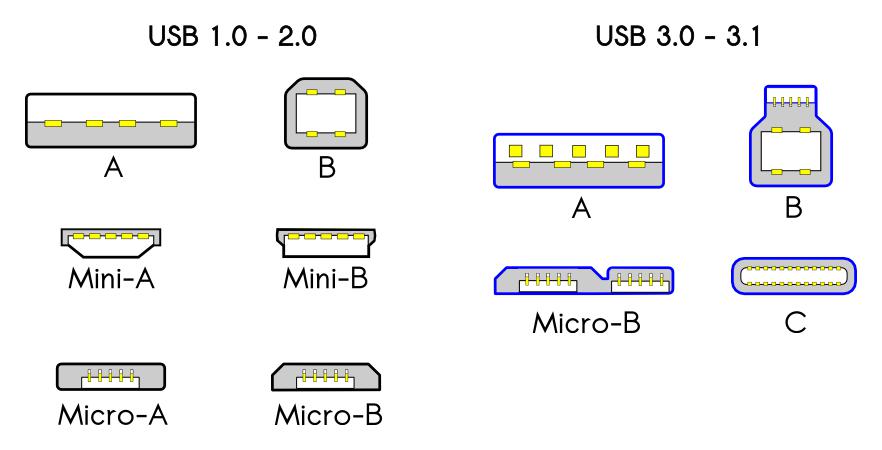 USB development history& Transfer Rates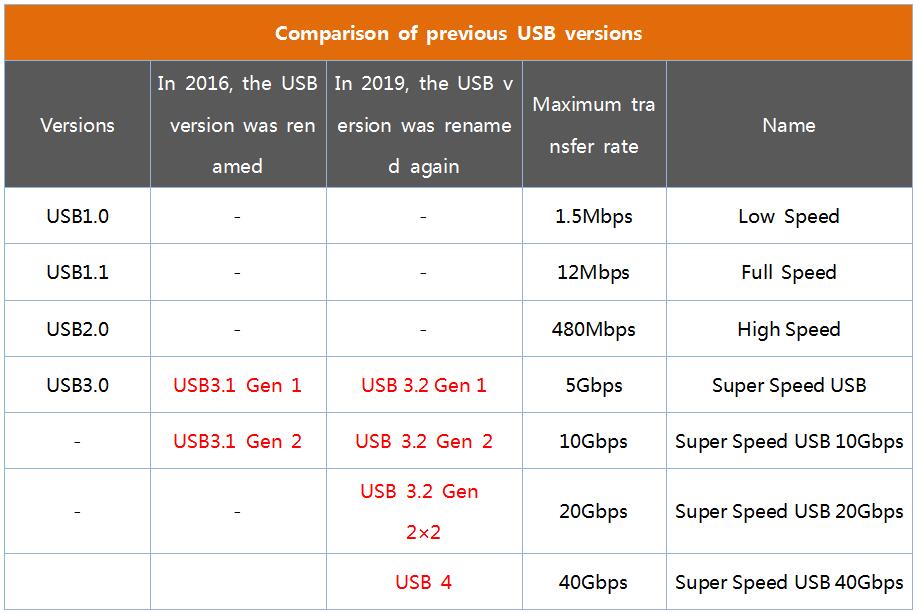 What is Alternate Modes?
For the first time, the USB-IF has allowed alternate protocols on their connectors to extend the capabilities of this connection. The addition of non-USB formats like DisplayPort, Thunderbolt 3, and MHL will allow devices to connect to displays and transfer data at higher speeds through a single USB-C cable. For example, Thunderbolt 3 can allow for bandwidth up to 40Gbps and support dual 4k displays @ 60Hz. This allows for ultra-fast data transfer to and from a Hard Drive or support for the latest TVs and monitors all in a compact adapter.

Not all USB Type-C cables or devices are capable of supporting these technologies. Always consult the specifications for your devices to confirm support for alternate modes. As an example, some laptops support Type-C but do not support Thunderbolt 3 or alternate modes. Computers and smartphones with USB-C 2.0 will not support alternate modes and thus, are not capable of transmitting video.

What is Power Delivery?
The addition of the power delivery capability to USB Type-C effectively reduces the clutter of having to carry multiple cables and adapters for power, A/V, and data transfer. This additional specification allows for a theoretical 100W max charging power, which is sufficient to charge devices larger than tablets such as laptops. Power Delivery is in its infancy but will become more widely adopted as device manufactures and connectivity providers develop the technology. Not all USB-C cables or devices are capable of supporting USB PD. Always consult the specifications for your devices to confirm support for the PD (as well as the maxium charging power).
Table 2-1 USB Type-C Specification Release 1.3
| | | |
| --- | --- | --- |
| Mode of Operation | Nominal Voltage | Maximum Current |
| USB 2.0 | 5V | 500 mA |
| USB 3.1 | 5V | 900 mA |
| USB BC 1.2 | 5V | Up to 1.5A |
| USB Type-C | 5V | 1.5A or 3A |
| USB PD | Configurable up to 20V | Configurable Up to 5A |
What is USB Type-C™ ?
USB Type-C™ is the new USB plug and port connection developed by the USB Implementers' Forum (USB-IF) which is the governing body for USB technology. It seeks to replace the USB Type-A and USB Type-B found on most computing devices with a versatile, smaller, and reversible connection.

The underlying technology of this new connection is designed to support faster data transfer rates (up to 20Gbps), more charging power (up to 100W), and video / audio capability through alternate mode. USB Type-C can support alternate display protocols such as DisplayPort™, Thunderbolt™ 3, and MHL™.

Devices that will support USB Type-C range from notebooks and smartphones to external Hard Drives and audio equipment. The shift in technology is in part motivated by the preference for devices to be more compact yet more capable then they have previously been, a capability not easily achieved with a technology that is over 16 years old.

DP/MDP Passive and Active Dongle
DP/MDP Passive Dongle can provide Dual Mode signal in DP port
DP/MDP Active Dongle only can provide DP signal in DP port
DP Connector can provide Dual mode signal that means the DVI
HDMI signal output can be exchanged by Passive dongle
DP Connector only can provide DP signal means the DVI HDMI
signal output can be exchanged by Active dongle only
The example for AMD 5870 MDPx6
If need 3DVI display output
It needs 2PCS Passive Dongle + 1PC Active Dongle (As GPU only
support 2 DUAL MODE signal)
If need 6DVI display output
It needs 2PCS Passive Dongle + 4PCS Active Dongle (As GPU only
support 2 DUAL MODE signal)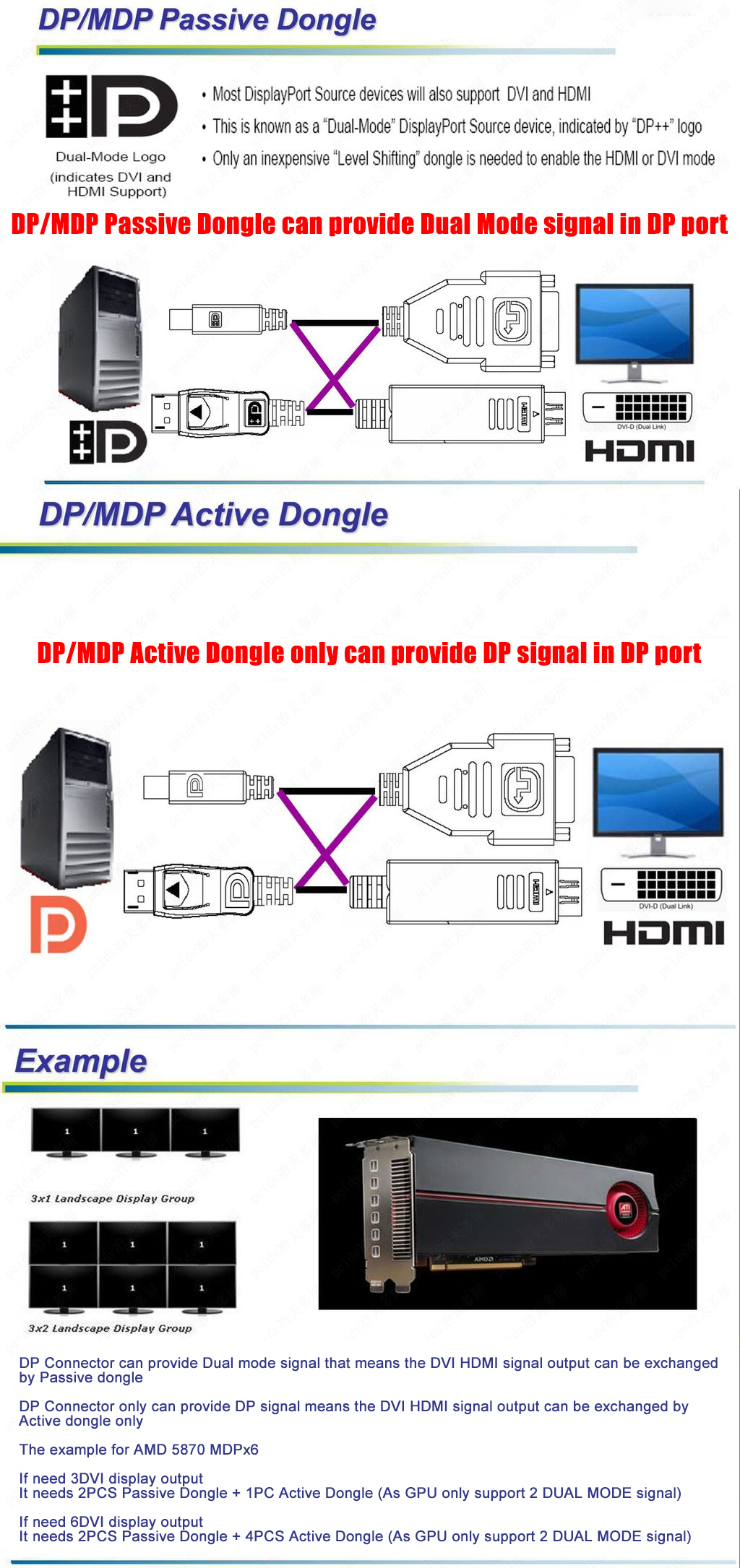 What does "UHD" mean? What is the difference between "UHD" and "FHD"?
"UHD" is the abbreviation of Ultra High Definition, which means Ultra High Definition. The "UHD" standard proposal issued by the International Telecommunication Union (ITU) calls the display with a physical resolution of 3840×2160 (4K×2K) and above as ultra high definition. Under different standards, the resolution represented by UHD is different. For example, the common resolution of Full Aperture UHD in the film industry is 4096 x 3112 and Academy UHD is 3656×2664. Generally speaking, UHD TV is the standard issued by ITU.
FHD is called Full High Definition. In the internationally recognized standards, "HD" is defined as three standard forms of 720p, 1080i and 1080p. But FHD is 1920*1080p. There are two conditions for this standard: 1. the video vertical resolution exceeds 720p or 1080i; 2. the video aspect ratio is 16:9. "P" means progressive scanning and "I" means interlaced scanning. Generally speaking, 480*320, 640*480 are "standard definition"; 1024*720p, 1920*1080i are "high definition"; 1920*1080p is "full HD"; 3840*2160, 7680*4320 are "ultra HD" (UHD).
Then we can clearly see the difference between UHD and FHD. UHD is Ultra High Definition with a resolution of 3840×2160 and above and FHD is 1920×1080p. In terms of video resolution, UHD is at least 4 times higher than FHD. The previous difference is intuitive and can be distinguished with our eyes.
Tip:
16:9
HD 1280*720
FHD 1920*1080
QHD 2560*1440
UHD 3840x2160 (4K)
21:9
WFHD 2560*1080
WQHD 3440*1440
WUHD 5120*2160