What Is a GaN Charger, and Why Will You Want One?
Want to be fully charged at all times? You deserve to know the GaN Charger.

What is a GaN Charger?
GaN Charger is an innovative application of GaN, a third-generation semiconductor material in power supplies. These chargers use GaN technology, which allows them to be smaller, have higher conversion rates, generate less heat, and show excellent temperature control with low switching losses.

Why will you want a GaN Charger?

1st. Small and lightweight
It fits in your shirt or jeans pocket, super small and weightless.

2nd. Higher charging efficiency, quicker charging
GaN Chargers can reduce the reliance on heat sinks, filters and circuit components. That means less charging losses and a full charge in half an hour or less. One manufacturer estimates cost savings of 10 to 20 percent in this area, as more efficient chargers mean less wasted energy.

3rd. Compatible with different types of digital products
GaN Chargers can meet the charging needs of different devices, and they can quickly restore power to phones, computers, tablets and other devices with just a fragment of time, easily solving charging problems.

Where can you get a GaN Charger today?
Although they're not yet widespread, you can get one that use GaN tech from Vcom.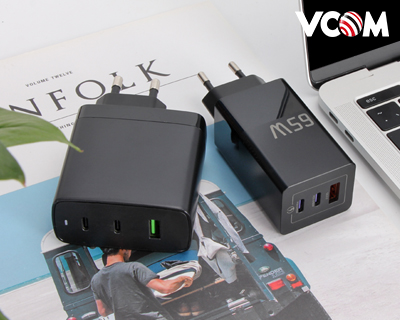 Vcom GaN Super Charger is a 100-watt Maximum charger with fast charging capabilities. It's designed for phones, tablets, laptops, and more. You'll notice it's around 40-percent smaller than a charger that doesn't use GaN technology. Once in large-scale use, it is expected to help manufacturers estimates cost savings of 10 to 20 percent.

Thank you for reading.